Dear Digidesignresort Friends,
21 days left until christmas! Perfect if you ask me - seems this year time runs much faster. Usually I can't wait until it is my husband's birthday (it's on the 21st) because then I know I would be on holiday as well. But this year I enjoy the days - the weather hasn't been too bad here, we could still go for our walk in the morning (except yesterday when it rained dogs and cats!).
No, I'm still not a snow lover but it seems that snow isn't coming for now :D So all good here in my little town ;-) But what's in today's newsletter for you? Of course - first of all - our Adventcalendar! Did you check out the open doors??? Aren't Adventcalendars the best thing in December? LOL Here is what you've missed so far (actually not missed, you can STILL watch them all :-))
Adventcalendar
Stay tuned! It's jam-packed with tutorials, videos, tips, tricks, freebies and specials!
Oh, and before I forget - our new Collaboration Kit "Keepsakes" is out! And it's on special right now!
Keepsakes (PU/S4H) by Digidesignresort
$9.00 $7.50 Save: 17% off
We have such beautiful layouts in the gallery that it was definitely hard to choose!
LAST CHANCE - this will be gone on TOMORROW!
Donation Project
EACH DVD (all Artist Studio DVDs & the Designer DVD)
sold from today until Cyber Monday We collect money again for a great donation to the SOS-Kinderdörfer. Any money we get from this will go again to that organization which supports poor kids all over the world - our little donation for christmas. If you didn't read it so far, have a look here.
And here is the DVD, wow, we are proud of it as we had planned it nearly a whole year :-) I know you will enjoy it as it contains over 600 hundred elements, papers and, even better, our last 12 Grabbags and videos from the Safari Lounge as well as some new videos - wow, it has an enormous value. We put it at a VERY special price. But this is just for Black Friday. On Cyber Monday we will increase the price :-)
| | | |
| --- | --- | --- |
| | Have you ever wanted to try your hand on designing? Or do you want to learn more, learn how the Pros are doing it? Or are you a card maker and sell... | $299.00 $59.95 Save: 80% off Buy Now |
Free with Purchase
The full kit is worth 15$ (6$ for Part A and 8$ for Part B) - means you save nearly 50% on any order!!!
Notting Hill Part A FREE with a Purchase of 10$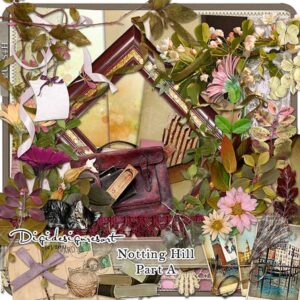 Notting Hill Part B FREE with a Purchase of 20$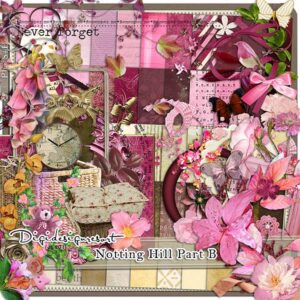 Notting Hill Part A & B - FREE with a Purchase of 30$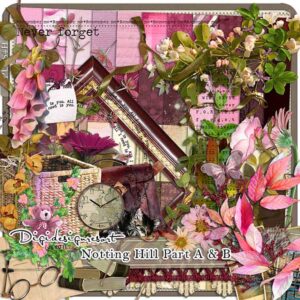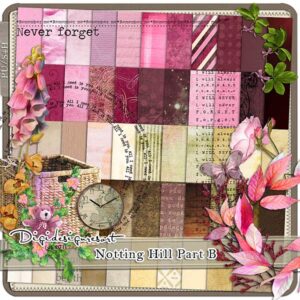 For your inspiration:
Keepsake Garden Designs
Have a look at her products here
| | | |
| --- | --- | --- |
| | For all those special memories from the past, present and future Rememeber When features an eclectic collection of nostalgic bits and pieces with a... | $6.00 $3.90 Save: 35% off... more info Buy Now |
| | A chill is in the air with the new Winter Shivers mix and match collection! Perfect for winter, snow days, holidays and outdoor activities. This... | $5.50 $3.58 Save: 35% off... more info Buy Now |
| | | |
| --- | --- | --- |
| | Tapestries, Victoriana, steampunk and flowers...Old Tapestries has it all! As part of the new mix and match collection everything will... | $6.00 $3.90 Save: 35% off... more info Buy Now |
| | The perfect kit for every little princess! My Princess features adorable elements along with pretty fairy tale papers to showcase your own little... | $6.00... more infoBuy Now |
Her beautiful freebie for you is created from her kit "Remember When"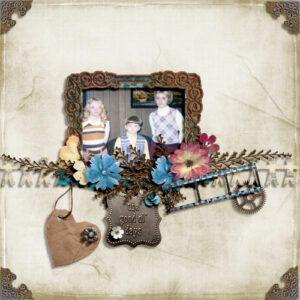 Today: TWO freebies for you!
Carena's Designs
Have a look at her productshere
| | | |
| --- | --- | --- |
| | Grab the entire kit with all the extras. Makes scrapping a page really simple and gives you mega variety to work with. Save your dollars and grab the... | $15.35 $9.20 Save: 40% off... more info Buy Now |
| | Vintage Rose Blossom II - Extra papers and frames for the Kit: Vintage Rose Blossom. Contents 4 papers1 hanging frame1 metal frame1 rose and leaf... | $2.95... more infoBuy Now |
| | Kit: Vintage Rose Blossom. Heritage lavender in colour with old rose blossoms which are a favourite with many. Scrap your old photos, grandparents... | $5.95... more infoBuy Now |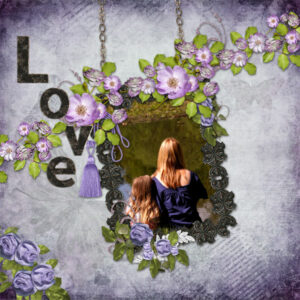 Grab it
HERE
. Limited Time